Alfredotoursitaly Past Tours.
If you want to know about my trips to Italy just ask any of my clients from my past trips.
     My Sicily tour took place in the Spring and was a way of enjoying a combination of the multi-ethnic foods of the Mediterranean and viewing the centuries of various peoples that left their mark on the three-corner island, from the Greeks, the Carthaginians, the Romans, the Moors, the Normans, and the Albanians.
My tour was personized. The groups are usually small, about 18. However, I have done larger groups. We traveled in comfortable air-conditioned buses that took us to our various destinations. All the dinners were included and most of them were ala carte with plenty of choices. This and many other aspects of my tours is what makes them personal, I'm there with my guest since I speak Italian, I'm able to help with any problem that might come up
     My Villa & North tour in the fall is one of my classic trips that I customize. We stay at the charming villa Daniela Grossi near Lucca for a week. The villa sleeps about 20 people comfortably with 5 loft apartments, 2 elegant double rooms and 4 singles. We went out every day to visit places like Lucca, Pisa, Florence, and the 5 Terre, which are 5 forgotten fishing villages along the Ligurian coast on the Mediterranean.
After our week of touring, great food and relaxing in the villa's pool, we left for Venice with a stop at the Ferrari museum in Modena & a visit at a balsamic vinegar farm.
Arriving at the docks of Venice we took private water taxis to our Hotel Al Piave near San Marco's Square. Venice is like a Medieval Disneyland! Every street has something to see, something to discover. I took the group to the two islands in the lagoon, Murano and Burano famous for glass making and lace making.
Following the three days in Venice we left for our stay in Milan where we toured the center with the Duomo, the Galleria and La Scala in the morning then in the afternoon we visited the famous Last Supper of Da Vinci. The next morning, we sent to Lake Como and the charming city of Bellagio with the magnificent dinner at Rosso di Sera near Como.
Better then me telling you about my past tours, read the post of my clients on the membership page.
I hope that after reading the reviews you would consider booking with me on one of my future tours.
Mille Grazie,
Alfredo de Bonis
Our special trip with Alfredo de Bonis begins on October 4, 2001 from Newark Airport.
Continental's President's Lounge makes the waiting very pleasant and soon we're off on Flight 40, a 777 airplane with three-across seating(we had the three seats to ourselves as Alfredo is settled in his bulkhead seat up ahead) and settle into the routine of snacks and personal video screens-we can even track the plane as it makes its way across the ocean. Frank is happy with his "no-lactaid" meal and we're soon in Rome's airport!
Monday, 10/15: Easy security and the Alimandi driver
Read More »

I want to take this opportunity to thank all of you who came on this trip for making a huge success. I was pleased with the outcome of the trip; everything went as planned. I believe that everyone enjoyed the 10 days. We had great tours & great food. All of our hotels were wonderful, Al Piave in Venice, Executive in Siena, Il Moresco, a 5-star hotel, in Ischia, Ludovisi in Rome. Our two bus drivers were great to work with. Giovanni took us from Venice to Naples and Gianfranco from Naples to Rome. Please let me know what you think and add your opinions on the trip to my…..
Read More »
Speak to someone now
Alfredo  732-910-5244
Or fill out our contact form to get more information.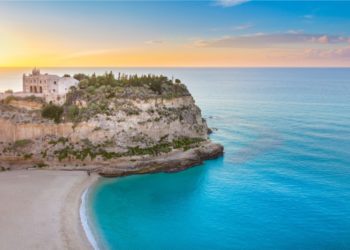 Trip Byzantine Heritage

May 24-June 10, 2019
16 LAND DAYS
Trip to Venice, Modena, Siena, Ischia & Rome
June 30 to July 11, 2019
10 LAND DAYS
Trip To Tuscany
SEPT. 13-27, 2019
13 LAND DAYS