Destinations and Tours from around the World
Italy Tours and Day Trips
We have searched high and low to find high-quality tours from reliable tour companies. We believe these are some of the best tours for the money from  some of our partners
Skip the line: Uffizi and Accademia Small Group Hidden Highlights Walking Tour
Get the benefits of a small-group tour at an affordable price point with this best-of-Florence sampler limited to just 10-12 people. Hear the stories behind Michelangelo's 'David' at the Accademia, marvel at the massive Duomo, and step inside the palatial Uffizi Gallery, all without waiting in the notoriously long lines. Headsets and a smaller group size mean you won't miss a word of your guide's insightful commentary. Visit Florence's top two museums in a single day Learn the secrets of the Duomo and Piazza della Signoria Includes a break for authentic Italian gelato Small-group size limited to 10 people.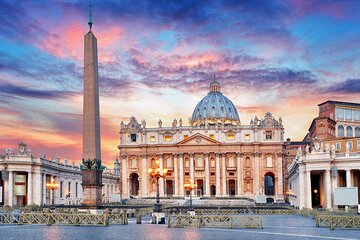 Small Group Vatican Museums, Sistine Chapel, & St. Peter's Basilica Guided Tour
Discover the Vatican on a group tour of the Sistine Chapel and the Vatican Museums with an expert guide. Navigate the vast complex of rooms, artwork, and history with a guide, who brings the ancient collection to life. Skip all the entrance lines to explore halls such as the Gallery of the Maps; step inside the Sistine Chapel to admire 'The Creation of Adam' by Michelangelo and finish your tour visiting St. Peter's Basilica. Choose from several departures, or upgrade to a small-group tour.
3 Hours
Price varies by group size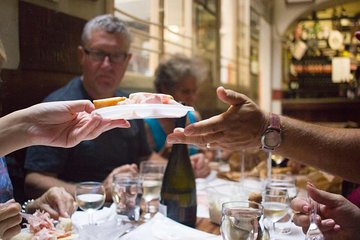 Classic Bologna Food Tour
Explore the culinary traditions of Bologna with this half-day food tour. Join a guide for a small-group walking tour and taste local specialties such as Parmigiano Reggiano cheese, Bolognese ragu, and mortadella. Begin the tour with a gourmet coffee, visit markets, and meet artisans at work to see how tortellini are made. Lunch at a historic osteria and a gelato tasting are included.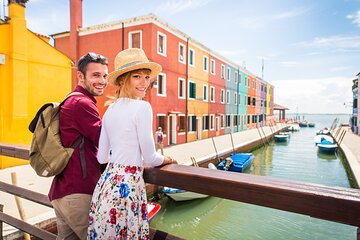 Private Day Trip to Murano, Burano & Torcello islands from Venice with a local
Our fun and entertaining guide will make this a memorable experience for you filled with offbeat sightseeing, visiting local popular hangout places, and trying the local food & drinks. Enjoy the natural surroundings of the Venetian lagoon on a relaxing boat trip to the picturesque islands of Murano, Burano, and Torcello.


Europe Tours and Day Trips
Eiffel Tower Priority Access Guided Tour with Summit Access
The Eiffel Tower is a must-see for all first-time visitors to Paris, but most tours only take in the view from the second-floor observation deck. This small-group tour includes skip-the-line entrance and access to the top floor of the tower, from where the spectacular views span the entire city. Eiffel Tower summit tour in Paris Enjoy priority access with skip-the-line entrance to the Eiffel Tower Take in the views from the both the 2nd floor and the top of the tower Marvel at landmarks such as the Arc de Triomphe, the Invalides, and Notre Dame Cathedral from above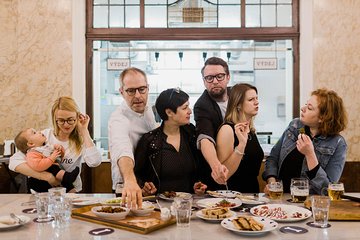 Prague is a foodie paradise but if you want to find the most authentic spots, you need a local guide. Save time by heading straight to the places offering the most delicious food and drink. You'll experience the sights and sounds of the city as you travel on foot and by subway to find these hidden places. Eat enough samples to fill you for the day (at least!) and learn about Czech culture and cuisine in the process.
Food, alcoholic and non-alcoholic drinks, and coffee are included
Make new friends on a group tour
An ideal tour for foodies or those who want to learn more
Benefit from insider knowledge of Prague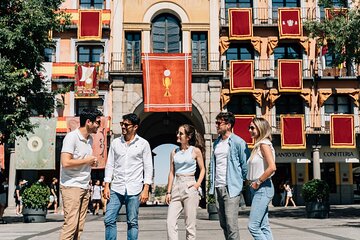 Three Cities in One Day: Segovia, Ávila & Toledo from Madrid
Visit Segovia, Ávila, and Toledo—three cities that are UNESCO World Heritage Sites—on a full-day tour from Madrid that features ancient battlements, a soaring cathedral, a historic monastery, and more. Coordinated tours and transport make the most of your travel time so you can cover more ground without rushing to catch trains or find buses; traveling with a guide takes you straight to the three cities' essential sights.
Included entrance fees save time and costs upon arrival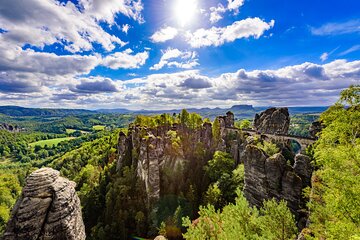 Terezin and the Best of Bohemian and Saxon Switzerland Guided Tour
How about combining nature with our fascinating regional culture and history tour? Visit Terezin – one of the largest and most visited concentration camps in Czechia. Explore TOP highlights of Bohemian and Saxon Switzerland with Narnia Labyrinth. Enjoy the famous picturesque village Hrensko with lunch in our top-rated restaurant. Don´t miss the most spectacular views over the whole national park from Bastei Bridge in Germany. This all included one day trip from Prague will blow your mind. You will learn many interesting facts about Czech culture and history combined with beautiful walks in the middle of the national park. This tour is not demanding on physical condition and is accessible for everyone as we don't exceed more than 5 km (3miles) of the easy hike.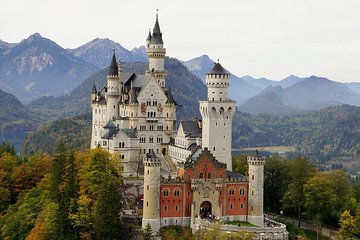 Skip-the-Line Neuschwanstein Castle Half-Day Tour from Munich
Neuschwanstein Castle, the fairy tale castle on which Disney's Cinderella castle is based, is a must-see when in the Munich area. Wait time for tours can take several hours; this 'skip-the-line' tour is essential for making the most of your time in Bavaria. Hauptbanhof, Munich's Central Station, is your convenient pick up and drop off spot for this round-trip tour. Your informative driver will guide you through the castle, so you won't miss a thing. Guaranteed entrance fee to Neuschwanstein Castle
7 Hours
Price varies by group size
Mexico Tours and Day Trips
Priority Access: Xcaret Day Trip+ Night Show+ Transportation *Official Product*
Escape for the day to Xcaret, Mexico's ecological and archeology park located in Riviera Maya. On this full-day trip from Cancun to Xcaret, swim in a lagoon, snorkel in the clear aqua waters of the Caribbean, and discover a network of subterranean rivers. Watch for monkeys, birdlife, and butterflies as you stroll through the jungle at Xcaret and take tours of the ancient Mayan archaeological sites. After the sun sets, enjoy folkloric entertainment that highlights the ancient Mayan culture around Cancun, Mexico. This Xcaret outing includes pickup and drop-off at most hotels in Cancun. Day trip to Xcaret, an eco-archaeological park located along the Riviera Maya
Tulum Ruins Private Tour with Turtle and Cenote Snorkeling
Combine ancient temples with a cenote and sea turtles on a full-day, private tour that includes an a la carte lunch at a local restaurant. An early morning departure means cooler temperatures and fewer crowds during your private tour of Tulum archeological site, which is followed by stops to snorkel in a cenote and swim with sea turtles. Private tour ensures personalized service Enjoy local cuisine with an included lunch. Private tour ensures personalized service
Enjoy local cuisine with an included lunch

Travel in a climate-controlled van to stay cool and comfortable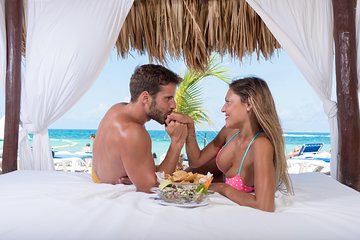 Mr Sanchos Romantic Day Beach Pass for Two
Indulge in beachside luxury with a VIP access pass to Mr. Sanchos Beach Club Cozumel—the ultimate choice for couples celebrating a special occasion. Your all-inclusive admission ticket grants you access to an all-you-can-eat food and drinks menu, a private cabana overlooking the Caribbean Sea, and a couples massage. Plus, receive a rose to gift your loved one.
VIP admission ticket to Mr. Sanchos Beach Club Cozumel
A luxury experience ideal for couples celebrating a special occasion
The pass includes all-you-can-eat food and drinks, a massage, and a private beach cabana
Receive a rose to gift a loved one
Caribbean Tours and Day Trips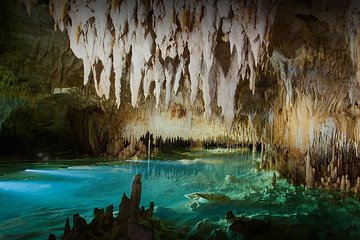 Cayman Crystal Caves Tour in Grand Cayman Island
Explore Grand Cayman Island beyond the beaches with a half-day Crystal Caves tour. Get picked up at your hotel and set out on a coach tour to the northside of Grand Cayman, home to tropical forests. Follow your guide to go inside caves and see both stalagmite and stalactite formations. Stroll through tropical forest and learn about local plant and animal life during the tour.
Discover scenic caves on Grand Cayman Island
Learn about cave history and rock formations
Go for a guided hike through the tropical forest
Hotel pick-up is included
3 Hours and 30 Mins
Price varies by group size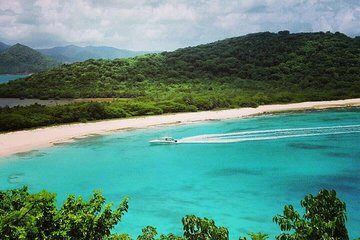 Adventure Antigua – The Xtreme Circumnavigation
Sail all the way around the island of Antigua in just one day with this powerboat tour. You'll get the chance to swim with rays before sailing off to dine on an included lunch right on the beach. You'll then head to the Pillars of Hercules for snorkeling and on to Rendezvous Bay for swimming and beach time before heading back to your departure point.
Stingray City tickets are included
Lunch is included in the price of the tour
Snacks and rum punch will be served
Snorkeling equipment will be provided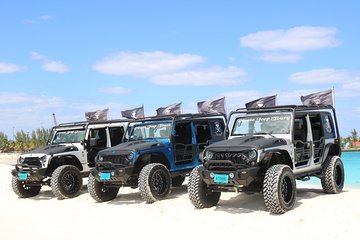 Pirate Jeep Sightseeing Adventure!
This is a Private Boutique tour! Each party gets their own private Jeep driven by your Pirate Tour Guide! Climb aboard our fully custom Pirate Jeep and begin your pirate adventure into the true history of the Golden era of Piracy in Nassau, Bahamas. Your Pirate Captain will drive you to Nassau's best sights that played an important role in Pirate History and the formation of The Bahamas as we enjoy it today. Learn about The Bahama's history and how the island of Nassau was a safe haven to the world's most infamous pirates such as Blackbeard! If you are looking for a family-friendly Nassau Sightseeing tour, then look no further because our Pirate crew are ready to take you on an adventure filled with laughter, information, and fun! Arrr!