Saint Peter's Basilica in Rome
Sidewalk Cafe' Taormina Sicily
Cathedral In Modica Sicily
Trip to Venice, Siena, Ischia & Rome
June 30-July 11, 2019
What's included:
PRICE: Based on 20: $4,000
Single Supplement 1O DAYS: $ 550.
3 Extra Days in Rome $965
Single supplement: $575
Group size: 25+
Last night will be spent in Rome!
Itinerary
DAY 0 TRAVEL: Sunday, June 30
6:45 United Air flight: 170 to Venice Italy
DAY 1: Monday, July 1: VENICE/ D: Hotel Al Piave ***
9:05 am: Arrive at Marco Polo Airport in Venice
11:00 am: Water taxi to Hotel Al Piave / Portage for one large bag included
FREE AFTERNOON TO EXPLORE or get tickets to the Doge Palace & San Marco's Basilica
7:30 pm: Meet in Lobby to walk to Il Giardinetto for dinner
DAY 2-3: Tues/Wed: July 2-3: VENICE B: Hotel Al Piave ***
Free to explore Venice and the outer islands of Murano(glass) & Burano (lace). Book ahead of time your tickets.
Dinner on your own
DAY 4: Thursday, July 4: SIENA/B/D: Hotel Executive ****
7am-8am: Breakfast in the Hotel
1 bag will be taken to the water taxi stand for the trip to Tronchetto
12:00 pm: Arrive at the Ferrari Museum. Optional trip to Balsamic farm
Explore the city of Modena birthplace of Luciano Pavarotti & Mirella Freni(opera stars) and famous for Balsamic vinegar.
3 pm: Leave for the hotel in Siena:2 ½ hours 200 K
6 pm: Arrive at hotel in Siena
8 pm: Dinner in Siena
DAY 5: Friday, July 5: SIENA: B/L/D:Hotel Executive ****
7-8am: Breakfast in the hotel
10-12: 00 pm: Visit the City of Siena
1:00 pm: Visit and lunch at Querceto di Castellina
2-6pm: Visit San Gimignano :
7:00 pm: Dinner at Dario Cecchini in Panzano
10:00pm: Return to hotel
DAY 6: Sat. July 6: ISCHIA: B/D: Hotel il Moresco:*****
7-8 am: Breakfast Bags to bus
6:30: Arrive at Porto Ischia. Portage of bags to the hotel.
7:30 pm Dinner at local
DAYS 7-8 Sun/Mon July 7-8: ISCHIA: B: Hotel il Moresco*****
FREE DAYS TO RELAX AT BEACH, OR SPA, OR EXPLORE THE ISLAND
Dinners on your own
DAY 9: Tuesday, July 9: ROME: B/D: Hotel Ludovisi ****
7-8 Breakfast in hotel bags in the lobby
9:15: Hydrofoil to Naples
10:15: Arrive in Port of Naples.
11:00 am: Load bus on to Rome: 3 h. 230 K
1:00pm: Stop at Autogrill for lunch
3:30 pm: Arrive at the hotel
7:30 pm; Gather in the lobby to go to dinner
Continued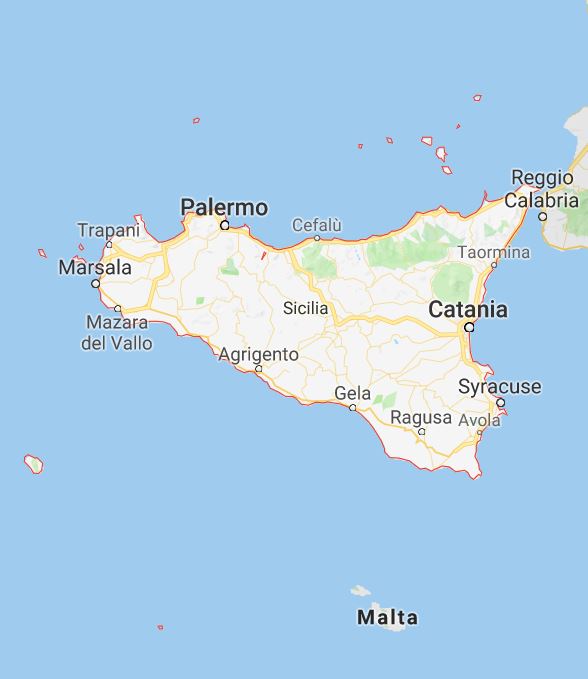 Trip to Venice, Siena, Ischia & Rome
Continued
DAYS 10: Wed: July 10: ROME B/D: Hotel Ludovisi ****
Breakfast in Hotel each morning
Day to explore Rome. Get tickets for the Vatican Museum & the Colosseum.
7:30 pm Last Night Gala dinner at Memmo's
DAY00: Thursday July 11 Flight Home
TRIP INCLUDES
• Round trip air Newark>Venice Rome> Newark
• 10 Buffet Breakfast in hotel/1 lunch/ 6 dinners
• Stay in 3 or 4 & 5 Star Hotels
• Water taxi in Venice
• Bag portage in Venice & Ischia
• Air-conditioned Bus throughout the trip
NOT INCLUDED; Side trips, meals where indicated & tips
SIDE TRIPS
1. Venice: Lagoon islands tour. Glass & Lace
2. Venice: Tickets for Doge Place & San Marco
3. Modena: Visit to Balsamic Farm
4. Rome: Vatican Museum & St. Peters
Continued
Speak to someone now
Alfredo  732-910-5244
Or fill out our contact form to get more information.
Upcoming Tours 2019 & 2020!
Trip to Sicily

Coming in 2020
10 LAND DAYS TOUR OF SICILY
Trip Byzantine Heritage
MAY 15-JUNE 1, 2020
16 LAND DAYS
My Super Tuscany Tour
SEPT. 6-20, 2019
13 LAND DAYS